MADE IN NORTH AMERICA
Developed with artists to give your skin the best care possible.

PURKLENZ ANTISEPTIC
For cleaning the skin and using in your rinse bottles, PurKlenz is the Canadian Industry Standard Antiseptic Soap for Tattooing and Piercing. Our proprietary formula has been used to cleanse the skin while also nourishing and reducing swelling for over 10 years. Try it for yourself and see why most artists in Canada have made the switch.
SHOP ALL PRODUCTS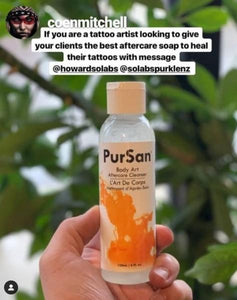 AFTERCARE THAT WORKS
Every aftercare product we make goes through in-studio testing by our friends in the industry. Unlike other brands, our formulas are developed in collaboration with our Pro Team artists and not just re-labelled products you find in a pharmacy.
SHOP AFTERCARE
TRUSTED BY PIERCERS
Trusted and Recommended by the Top Canadian and American Piercers for over a Decade.
SHOP PURKLENZ
PURTECT
Used as both a Glide and an Aftercare, PurTect A&E Cream is the only product that keeps reddening down during your tattoo procedure while providing a healing layer during and after. Try it now, see what a difference it makes for your Tattoos!
TATTOO CREAMS AND GLIDES
PURKLENZ PRO TEAM
Big Shout out to our PRO Team and dear friends in the industry who helped make PurKlenz what it is today. You guys were a big part of this and we're so grateful for your hard work! Unbelievably talented people with amazing skills- check them out here and meet our team.
MEET OUR PRO TEAM